Le Clos, le restaurant du Château de Labro
gourmet bistrot, piano bar, breakfast available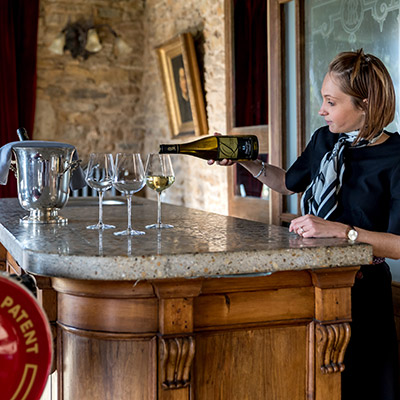 Restaurant Le Clos
Gourmet bistro
Dans une ambiance bistrot revisitée avec une magnifique vue sur la vallée vous découvrirez une cuisine raffinée à base de produits frais de la région préparée par un jeune chef talentueux.
Afine selection of our regional wines to accompany your meal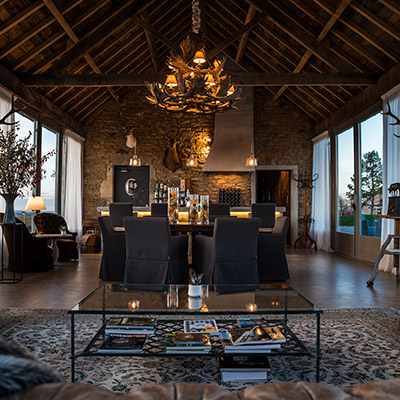 Piano Bar
A warm and welcoming environment
Whether in a couple or with friends or family, you can enjoy our warm and welcoming areas with a magnificent view over the valley. Private area available for hire for a group aperitif, a romantic meal, a business lunch, or to share with friends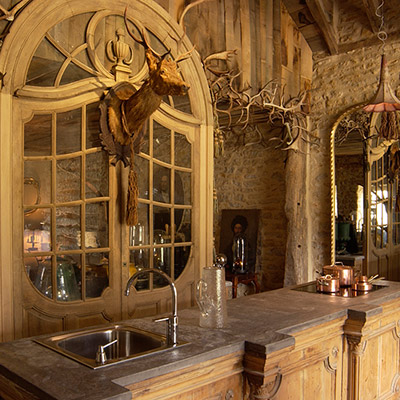 Breakfast
Unusual decor
Servi tous les jours de 8h à 10h30 dans un décor atypique digne d'un cabinet de curiosités, vous dégusterez des produits frais sélectionnés parmi nos meilleurs producteurs locaux et découvrirez nos confitures maisons. Le petit déjeuner est servi uniquement en salle au tarif de 16€ (8€ pour les enfants de moins de 10 ans).
The quality of our commitment
You will receive a warm welcome, a service personalised for you, a real home-made feel and the chance to discover quality local products.
Notre table est référencée dans le guide Michelin
et reconnue par le collège culinaire de France comme «restaurant de qualité».
Menus
Market menu

Changing with the seasons

3 DISHES
Starter, meal, dessert
33 €

Plaisir menu

For foodies

5 DISHES
Based on the market menu
49 €

A few examples of the dishes served at Château de Labro throughout the seasons

Carpaccio de bœuf Aubrac mariné, huître de Bouzigues, betteraves du marché, écume iodée
Déclinaison de carottes couleurs, en purée, à l'huile d'olive, au cumin, au vinaigre balsamique blanc
Tartare de maquereaux, framboises, feuille de shiso et purée de betteraves
Escargots de Nadaillac poêlés en tempura, royale de persil et aïgo boulido
Carré de cochon gras mariné au piment d'Espelette, poivron Sweet Banana et chipirons
Pavé de truite saumonée à l'unilatérale, risotto d'orge perlé, tombé de chou rouge au malt
Carré de cerf de l'Aubrac servi rosé, jus au grué de cacao, mousseline de céleri et poires confites au beurre
Pièce de bœuf fermier Aubrac,réduction de Marcillac, gâteau de pomme de terre au Laguiole
Pomme de Pruines façon Tatin, chantilly aux graines d'acacia
Pamplemousse en mousse et confit, glace gingembre, confit de miel et huile d'olive
Fraises de pays, mousse mascarpone au thé jasmin, financier à la pistache
Baba au rhum ambré, ananas rôti à la fève de Tonka, sorbet ananas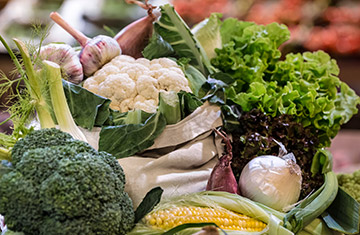 La cuisine de Kevin
Son métier, sa passion : très attaché au terroir, ce jeune chef talentueux et passionné développe dans cet environnement enchanteur une cuisine à fois classique et créative basée sur le travail de produits de qualité.
Au fil de ses expériences passées dans de belles Maisons en Provence et en Aveyron, il a construit sa vision de la cuisine, fraîche, intuitive et créative, s'inspirant de cultures variés et de nos spécialités régionales.
He will help you discover fresh produce primarily from our region, revealing the richness of our land and the passion of those who produce it.
For your enjoyment his dishes, simply cooked and perfectly seasoned, will be available according to the season and the market.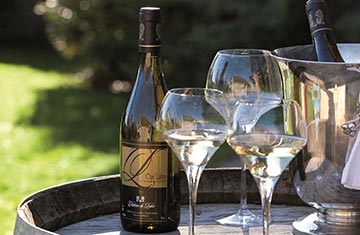 The origin of our products
We have selected the region's best products and specialities for you to enjoy throughout your stay.
You will also discover Clos Labro, a unique and complex dry white wine made from 6 grape varieties that are found in the plot around the Château's swimming pool (Chardonnay, Viognier, Mauzac, Colombard, Muscat Petit Grain, Petit Manseng): a limited production of 1,200 bottles, dedicated exclusively to the Labro restaurant and offered as a souvenir to our guests ...
Our chef, suppliers, growers, cheese makers and producers all work together every single day to offer quality products, such as:
Take a look at some of our suppliers

Legumes and aromatic herbs from Bernard Roualdès in Port d'Agrès
Charcuterie from Aveyron: Maison Roland Serin
Veal from Aveyron and Ségala, Label Rouge
Pure farm-bred Aubrac beef, Label Rouge
Cheese from Aveyron: Ecir, Laguiole, Roquefort, chèvre de la vallée du Lot... Douls Fromagerie - From Mazel to Rodez
Farmhouse bread and focaccia from l'Epi du Rouergue
Honey from Pascal Imbert - Miellerie de la Cascade (Honey Farm) in Salles la Source
Organic milk yoghurt, les Paturins in Prendeignes
Seasonal fruits from Yannick Colombier
Fruit juices from Pruines - the Pouget Family
Coffee from Maison Richard
Le restaurant Le Clos vous accueille
EVENINGS from Tuesday to Saturday, reservation required (from Sunday to Friday in July and August)
AFTERNOONS for groups only, reservation required

05 65 67 90 62

PIANO BAR available for private hire for dinner with friends or family, a romantic meal, a business lunch...